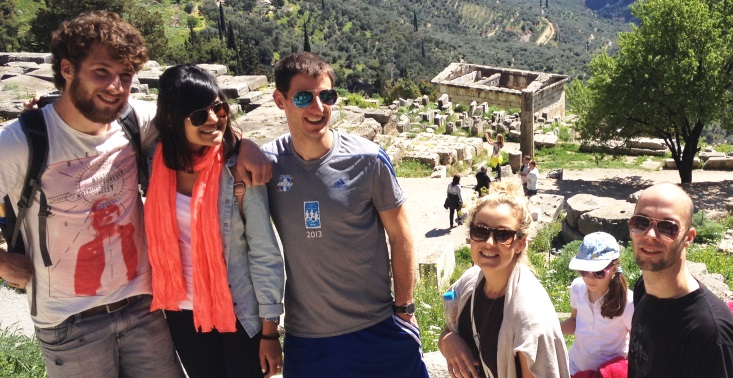 Photo: Former students in Olympia excersion, organized by the program
---
General INFO
---
This is a 2-year program, in Sport and Exercise Psychology, taught completely in English, at the School of Physical Education & Sport Science / University of Thessaly, at Trikala city/Greece .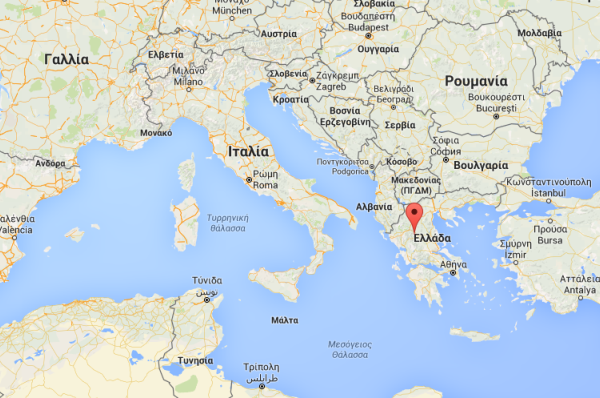 Photo: School of Physical Education & Sport Science (Trikala city)
The Aim of the Program
---
The aim of the program is to offer master's level education in the area of Exercise and Sport Psychology and to educate students to a professional level.
Students will acquire the necessary knowledge and competencies that will enable them to understand human behavior in exercise and sport contexts and to apply effectively their knowledge to enhance physical activity, health, well-being, and high performance in the areas of public health and sports.
Sport and exercise psychology seeks to understand psychological factors that occur in sports, physical activity and exercise. The focus is on behavior, emotions and cognitions of persons involved in sport and exercise settings, e.g. exercise participants, athletes, coaches, teachers, therapists, parents, spectators, officials etc. Sport and exercise psychology draws upon the scientific fields of psychology, sport, education and health sciences.
---
Admission Requirements
---
Bachelor's degree in Sport Science, Psychology, Social Psychology, Health Science or another relevant field
Proof of English language proficiency
---
Language of the program
---
English
You can prove your English language skills either with a previous degree completed fully in English in an English-speaking country (USA, Canada, New Zealand, Australia, Great Britain or Ireland) or with one of the following language tests:

* TOEFL<http://toefl.org> (Test of English as a Foreign Language)
minimum score of 580 (paper-based) or 92 (Internet-based).
* IELTS<http://ielts.org> (Academic) minimum score of 6.5
* PTE<http://pearsonpte.com/pteacademic> (Academic) minimum score of 59
* CAE<http://www.cambridgeenglish.org/exams-and-qualifications/advanced/%E2%80%8E> or CPE<http://www.cambridgeenglish.org/exams-and-qualifications/proficiency> with grade A, B or C
---
Duration of Study
---
The duration of study is 2 years (120 ECTS)
---
Tuition fees
---
The total amount of tuition fees is 4.000 €.
Payment shall be made in equal installments at the beginning of each semester. For more information about the payment method, please contact the Secretariat of the program.
---
Classes
---
The program runs as follows:
(a) for the first semester classes run on a weekly basis, from Monday noon to Wednesday afternoon, and
(b) for the second and the third semesters classes run on a four 3-day blocks schedule.
The fourth semester is devoted to completion of Master Thesis.
To complete the course and obtain the MSc Degree students are required to successfully attend at least nine courses, two seminars, practicum and research thesis.
In addition to the teaching, staff of the University of Thessaly, professors from European Universities and distinguished scholars from all over the world are invited to teach.
---
Double Degree
---
The University of Thessaly will award a double degree supported by Erasmus mobility grant with the collaboration of the University of Leipzig in Germany, to students who will complete successfully a minimum of 30 ECTS (one semester) at the hosting university.
---
Applied Practice (Practicum)
---
The applied practice takes place under the guidance of an accredited sport psychologist on issues concerning exercise behaviors, health behaviors, sport performance, rehabilitation, and school physical education.
To begin their applied practice students should have completed the relevant seminars aiming at developing their applied skill. The seminars run over the first 2 semesters. The applied practice can commence at the 3rd semester. Students are responsible for ensuring a place and participants for their applied practice. The combination of applied practice, modules, seminars and research required by the MSc program covers a significant part of the accreditation criteria set by The Hellenic Society of Sport Psychology, for Accredited Sport Psychologists.
---
For further information regarding the application procedures please contact us:
e-mail: This email address is being protected from spambots. You need JavaScript enabled to view it.
tel +3024310 47049, +30 24310 47024
Postgraduate Program of Studies
Department of Physical Education and Sport Sciences
University of Thessaly
24310, Trikala
Greece