Welcoming our students for the new academic year, MSc Schedule for the Autumn Semester
A new academic year is just around the corner and, as always, we are excited to welcome this year's students. Our new students will also be joined by students from the University of Leipzig attending their 3rd semester at the University of Thessaly, continuing the ongoing collaboration between the two Universities which provides an increasingly diverse learning environment for the students of this Master's Program. We are confident that our students are equally excited and we can't wait to meet you all!
Below, you will find the schedule for the Autumn semester!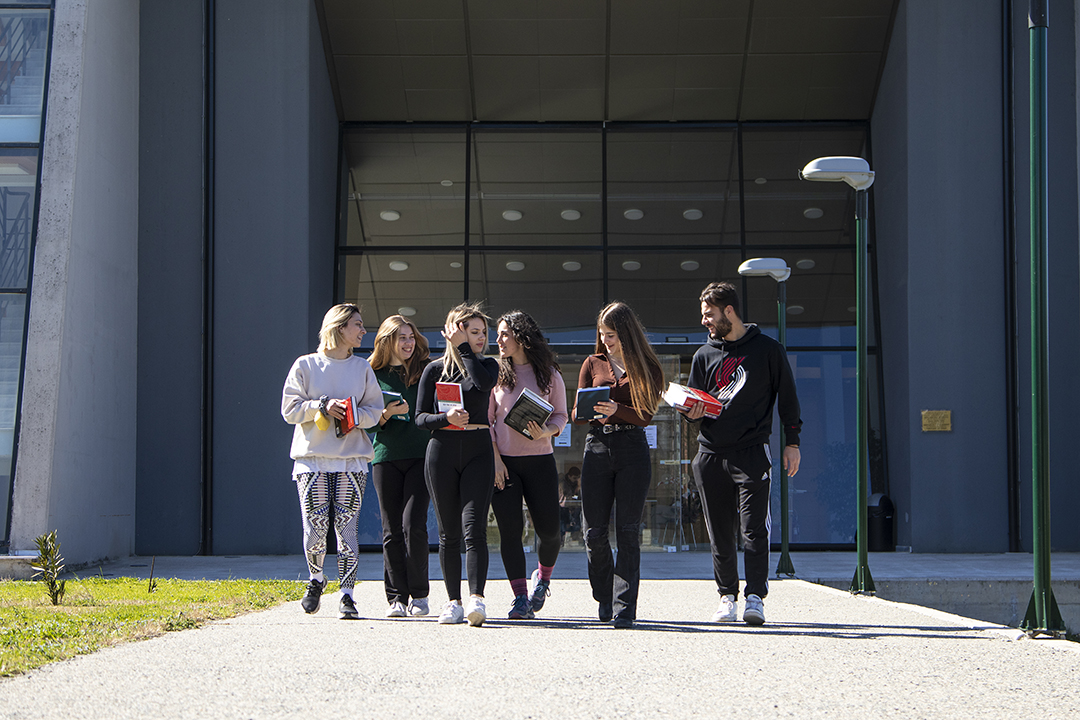 MSc schedule 2022-2023 – 1st Semester
Mon

26/9

10.00

Welcome coffee

Lecturer

Mon

26/9

1

1

.

0

0-14.

0

0

Seminar

Ι

: Preparing Presentations

Giakas

Mon

26/9

15.00-16.

3

0

Seminar

ΙΙ

: e-Library

Bouglas

Tue

27/9

09.00-11.00

Intro to Research methods

Hatzigeorgiadis

Tue

27/9

11.30-13.30

Intro to Research methods

Hatzigeorgiadis

Tue

26/9

15

.00-

17

.

0

0

Intro to Sport Psych Foundations

Hatzigeorgiadis

Tue

27/9

17.30-18.30

Study programme

Hatzigeorgiadis/Papaioannou

Tue

27/9

20.30

Welcome Dinner

Mon

10/10

*

12.00 – 14.30

Psychological Skills

Comoutos

Mon

10/10

15.30 – 18.00

Psychological Skills

Comoutos

Tue

11/10

09.00-11.00

Foundations

Hatzigeorgiadis

Tue

11/10

11.15-13.15

Research methods

Hatzigeorgiadis

Tue

11/10

14.30-16.30

Youth Sport

Papaioannou

Tue

11/10

16.45-18.45

Youth Sport

Papaioannou

Wed

12/10

09.00 – 11.30

Foundations

Hatzigeorgiadis

Wed

12/10

12.00 – 14.30

Research methods

Comoutos

Mon

17/10

12.00 – 1

4.30

Research Methods

Comoutos

Mon

17/10

15.30 – 18.00

Research Methods

Comoutos

Tue

18/10

09.00-11.00

Foundations

Hatzigeorgiadis

Tue

18/10

11.15-13.15

Foundations

Hatzigeorgiadis

Tue

18/10

14.30-16.30

Youth Sport

Papaioannou

Tue

18/10

16.45-18.45

Youth Sport

Papaioannou

Wed

19/10

09.00 – 11.30

Psychological Skills

Theodorakis

Wed

19/10

12.00 – 14.30

Psychological Skills

Theodorakis

Mon

31/1

0

12.00 – 1

4.30

Research Methods

Comoutos

Mon

31/1

0

15.30 – 18.00

Research Methods

Comoutos

Tue

1/11

09.00-11.00

Foundations

Hatzigeorgiadis

Tue

1/11

11.15-13.15

Foundations

Hatzigeorgiadis

Wed

2/11

09.00 – 11.30

Psychological Skills

Theodorakis

Wed

2/11

12.00 – 14.30

Psychological Skills

Theodorakis

Mon

7/11

12.00 – 14.30

Psychological Skills

Comoutos

Mon

7/11

15.30 – 18.00

Psychological Skills

Comoutos

Tue

8/11

09.00-11.00

Foundations

Hatzigeorgiadis

Tue

8/11

11.15-13.15

Foundations

Hatzigeorgiadis

Tue

8/11

14.30-16.30

Youth Sport

Papaioannou

Tue

8/11

16.45-18.45

Youth Sport

Papaioannou

Wed

9/11

09.00 – 11.30

Research Methods

Hassandra

Wed

9/11

12.00 – 14.30

Research Methods

Hassandra

Mon

21/11

12.00 – 14.30

Psychological Skills

Comoutos

Mon

21/11

15.30 – 18.00

Psychological Skills

Comoutos

Tue

22/11

09.00-11.00

Foundations

Hatzigeorgiadis

Tue

22/11

11.15-13.15

Foundations

Hatzigeorgiadis

Tue

22/11

14.30-16.30

Youth Sport

Papaioannou

Tue

22/11

16.45-18.45

Youth Sport

Papaioannou

Wed

23/11

09.00 – 11.30

Research Methods

Hassandra

Wed

23/11

12.00 – 14.30

Research Methods

Hassandra

Mon

28/11

12.00 – 14.30

Psychological Skills

Comoutos

Mon

28/11

15.30 – 18.00

Psychological Skills

Comoutos

Tue

29/11

09.00-11.00

Foundations

Hatzigeorgiadis

Tue

29/11

11.15-13.15

Foundations

Hatzigeorgiadis

Tue

29/11

14.30-16.30

Youth Sport

Papaioannou

Tue

29/11

16.45-18.45

Youth Sport

Papaioannou

Tue

**17/1

14.30-16.30

Youth Sport

Papaioannou

Tue

**17/1

16.45-18.45

Youth Sport

Papaioannou
* Monday 10/10, 11.45: Meet the Leipzig students and staff
**Tuesday 17/1, 14.30-18.45: Youth Sport – online student presentations
------
MSc schedule 2022-2023 - 3rd Semester
Block 1 – 2-3/10
| | | | | |
| --- | --- | --- | --- | --- |
| Day | Date | Time | Module | Session leader |
| Sun | 2/10 | 10.00 – 11.30 | Qualitative Data Analysis | Goudas |
| Sun | 2/10 | 12.00 – 13.30 | Qualitative Data Analysis | Goudas |
| Sun | 2/10 | 15.00 – 16.30 | Counseling skills | Patsiaouras |
| Sun | 2/10 | 17.00 – 18.30 | Counseling skills | Patsiaouras |
| Mon | 3/10 | 10.00 – 11.30 | Quantitative Data Analysis | Comoutos |
| Mon | 3/10 | 12.00 – 13.30 | Quantitative Data Analysis | Comoutos |
| Mon | 3/10 | 15.00 – 16.30 | Clinical Exercise Psychology | Morres |
| Mon | 3/10 | 17.00 – 18.30 | Clinical Exercise Psychology | Morres |
Block 2 – 23-24/10
| | | | | |
| --- | --- | --- | --- | --- |
| Day | Date | Time | Module | Session leader |
| Sun | 23/10 | 10.00 – 11.30 | Qualitative Data Analysis | Goudas |
| Sun | 23/10 | 12.00 – 13.30 | Qualitative Data Analysis | Goudas |
| Sun | 23/10 | 15.00 – 16.30 | Quantitative Data Analysis | Comoutos |
| Sun | 23/10 | 17.00 – 18.30 | Quantitative Data Analysis | Comoutos |
| Mon | 24/10 | 10.00 – 11.30 | Counseling skills | Patsiaouras |
| Mon | 24/10 | 12.00 – 13.30 | Counseling skills | Patsiaouras |
| Mon | 24/10 | 15.00 – 16.30 | Clinical Exercise Psychology | Morres |
| Mon | 24/10 | 17.00 – 18.30 | Clinical Exercise Psychology | Morres |
Block 3 – 13-14/11
| | | | | |
| --- | --- | --- | --- | --- |
| Day | Date | Time | Module | Session leader |
| Sun | 13/11 | 09.00 – 10.30 | Clinical Exercise Psychology | Morres |
| Sun | 13/11 | 10.45 – 12.15 | Clinical Exercise Psychology | Morres |
| Sun | 13/11 | 12.30 – 14.00 | Qualitative Data Analysis | Goudas |
| Sun | 13/11 | 15.00 – 16.30 | Qualitative Data Analysis | Goudas |
| Sun | 13/11 | 16.45 – 18.15 | Counseling skills | Patsiaouras |
| Sun | 13/11 | 18.30 – 20.00 | Counseling skills | Patsiaouras |
| Mon | 14/11 | 10.00 – 11.30 | Clinical Exercise Psychology | Morres |
| Mon | 14/11 | 11.45 – 13.15 | Clinical Exercise Psychology | Morres |
| Mon | 14/11 | 14.30 – 16.00 | Counseling skills | Patsiaouras |
| Mon | 14/11 | 16.45-18.15 | Counseling skills | Patsiaouras |
Block 4 – 27-28/11
| | | | | |
| --- | --- | --- | --- | --- |
| Day | Date | Time | Module | Session leader |
| Sun | 27/11 | 09.00 – 10.30 | Clinical Exercise Psychology | Morres |
| Sun | 27/11 | 10.45 – 12.15 | Clinical Exercise Psychology | Morres |
| Sun | 27/11 | 12.30 – 14.00 | Quantitative Data Analysis | Comoutos |
| Sun | 27/11 | 15.00 – 16.30 | Quantitative Data Analysis | Comoutos |
| Sun | 27/11 | 16.45 – 18.15 | Counseling skills | Patsiaouras |
| Sun | 27/11 | 18.30 – 20.00 | Counseling skills | Patsiaouras |
| Mon | 28/11 | 10.00 – 11.30 | Clinical Exercise Psychology | Morres |
| Mon | 28/11 | 12.00 – 13.30 | Clinical Exercise Psychology | Morres |
| Mon | 28/11 | 14.30 – 16.00 | Counseling skills | Patsiaouras |
| Mon | 28/11 | 16.30 – 18.00 | Counseling skills | Patsiaouras |